March 26, 2006 (link)
9:43 PM
It's the fifth anniversary of this site today, and I'd hoped to do something nice to mark the occasion. (Some sort of luau, perhaps, or a walk on the beach with Jim.)
But with a thesis on my plate, and a deadline for said thesis looming all too close -- not to mention Rockoverlondon being temporarily down -- I'm afraid that, for now, it's going to have to be: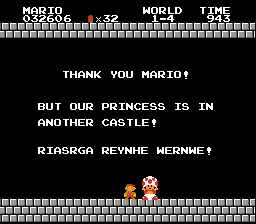 Current music: I wrote it.

---
March 5, 2006 (link)
11:35 PM
Something I stumbled across today that made me smile: the VgPiano website.
Hardly a surprise to those that know me, that this should be a subject dear to my heart: I've been involved, live and in the studio, in covers of five or six different bits of video game music. (Let's see...Drakkhen, Zelda, Mario, Xexyz, Monster Party, "The Boy Aims For Wild Fields"...yep, that's six.) A good friend of mine, a pretty ace composer who has actually written for video games, teased me the other night about my fondness for Nintendo music: "And I'm the one whose plan is to write video game music?" Guilty as charged!
Anyway, such is the nature of my inner life (he says, pretentiously) that I was oddly moved by what I found on this page. I've always felt that there was a latent poetry in a lot of this music -- a poetry that came out more fully in the Super Nintendo era, such that there are certain fragments of music that inspire in me the same bittersweet pleasure-pain that, say, La Mer does (or did), or Curtain Hits the Cast, or whatever else. (Add another "or did" to most of those -- such are the joys of dysthymia -- but not to the first one: the opening music from Chrono Trigger still gets me, even if "Wild Fields" doesn't quite the way it used to.)
So, to those who like this sort of thing, you'll find the tunes on the Members page. The two I liked best were, first, MarioSystems, partly for their terrific repertoire choices -- "You had me at 'Practice Race'", says Renee Zellweger -- and partly because the lo-fi homeliness of their piano is kind of charming: it can be good, I think, to dirty this music up a little, if "dirty" means "human" (and oh, my robots, how it does, how it does). Metroid music on an out-of-tune upright...brings back memories of parties at Mike V.'s place, where I did that very thing myself.
I was even more wowed by Daniel Brown, aka Kareshi. In MarioSystems' performance of "Kraid's Hideout" (long my favorite melody from the original Metroid), there were a few minor inaccuracies that detracted a bit. Nothing of the sort in Daniel's version, which seems pretty much note-freakin'-accurate, and is played with admirable care and sensitivity (not to mention, on a much higher-end piano). And he's got sheet music! Kinda cool to see how rhythmically tricky the "Norfair" music is.
So maybe I'll have to track down a couple mics, spend some time alone with one of the nicer grands around here...I probably don't have the chops for anything from Xexyz, let alone something heftier like a solo piano arrangement of anything from Secret of Mana, but I can at least do a few of the tracks from Drakkhen.
Oh, and, to quote Harold Kunkle: "Nerd! Nerd, nerd, nerd, nerd, nerd..."
Current music: MarioSystems - "Gradius - Level 5"

(It sounds like the piano part to an early Hindemith sonata or something! Well, OK, maybe not -- but it's still a surprisingly plausible little fragment of music.)